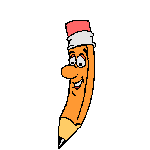 Follow directions.
Stay in seat.
Raise hand.
Bring pencils, books, papers, and supplies to school.
All work completed on time.
Be in class on time.
Keep hands, feet, and objects to yourself.
No name calling, teasing, tattling, lying, cursing, arguing, or cheating.
Listen when you should.
Be patient. Wait your turn.

When a child chooses to break a classroom rule,
the consequences are:
Name on the board to serve as a reminder or warning
One check, the students will lose five minutes of free time
For each checkmark, the student will lose an additional five minutes of free time
Severe behavior, the students is removed from the classroom